Return to Home Page
Bus Groups
Coach Arrivals at Grand Canyon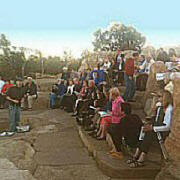 Who Will Meet and Greet Your Tour?
A smiling Grand Canyon Expert will meet your coach at any central point, for a half hour or one hour presentation. We recommend Mather Point, with ample coach parking, because it has an amphitheater with plenty of seating. For inclement weather we will have the presentation indoors or in a sheltered area.
We are your local experts: fascinating speakers including former rangers, who are university-educated regional experts. They are trained in teaching techniques, which involve visual aids, show-and-tells, pass-around items of interest, and colorful handouts to take home for each guest. Yes, we can provide champagne!
Please call Canyon Dave Tours today to reserve your coach arrival presentation.
Planning and booking: 877-845-3283.
Courtesy to Travel Agents