Return to Group Tours
|
Private Tours
Corporate Tours of Grand Canyon
Group Tours are for two vans or more. The vans seat 14, but are most comfortable for 10-12 adults. If your group needs only one van, your most affordable options are an Ultimate Tour or a Private Tour.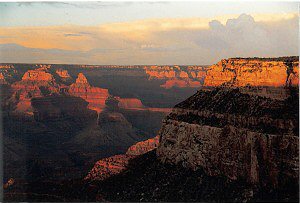 As executive and senior staff member at the Arizona-Sonora Desert Museum, "Canyon Dave" Thayer planned corporate tours for as few as 4 to upwards of 100 people. In most cases, these excursions were organized to give board members and company executives an opportunity to interact for an extended period in a relaxed setting. Dave is ready to provide the same service for your retreat or company tour.

At Grand Canyon National Park, there is only one indoor venue that overlooks the canyon. It must be booked well ahead, and refreshments are available. Otherwise, restaurants in Tusayan, just outside the park, can be exclusively reserved, or it may be possible to reserve the Arizona Room in the El Tovar Hotel. There is also a 5-star hotel with conference rooms within a short helicopter flight from Grand Canyon.
As the tour ended we certainly didn't have enough of this guide so we asked him to join our group for dinner. He graciously accepted and the evening was enjoyed with a great deal of laughter and true sentiments of how Canyon Dave Tours truly should be part of your Grand Canyon experience."
--JSR Micro Sales Meeting - 24 "happy" people
Let us help your assistant to plan through this maze of possibilities for the best possible corporate retreat that fits your budget. You can offer your staff a full professional tour or a one hour presentation of Grand Canyon highlights. If appropriate, we can add a helicopter tour over the Canyon. As a local operator, we know the reputations of the best hotels, restaurants, park amenities, and activities. We offer you our expertise.
See our Walk & Talk Tour for a One Hour Stroll or Sit-down Talk
Please call us today to reserve your corporate getaway. Bookings fill early, especially March thru October.
Courtesy to Travel Agents