Return to Home Page
|
Group Tours Page
Group Tours are for two vans or more. The vans seat 14, but are most comfortable for 10-12 adults. If your group needs only one van, your most affordable options are an Ultimate Tour or a Private Tour.
Grand Canyon Tours for Your Group
"Church, Scouts, Clubs, Meetings, Reunions"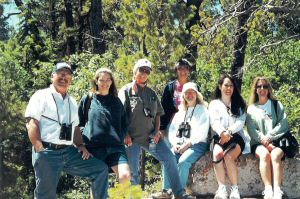 We will customize your Grand Canyon or Sedona tour for your group. Our guides are specially trained to offer you an experience tailored to you. You will see all the best viewpoints with someone who understands your priorities. We will always select your guide accordingly from our diverse family of tour leaders.

For example, scout groups might emphasize hiking and nature or maybe a fossil hunt or merit badge project. A church group may wish to visit the historic Grand Canyon Chapel or the rimside worship site. Your rockhound club may choose a petrified wood hunt. A seniors group might prefer short walks along the South Rim and a sit-down lecture at an amphitheater.

The possibilities are endless but the choices are yours. Whatever your preferences, you will be visiting all the best viewpoints.

So let us know your orientation and focus. We will cater to you.
Please call our operator today to reserve your tour! Bookings fill early, especially March thru October. The 2020 price for groups is $2,000 for the first van and guide, and $1400 for each additional van and guide.
Planning and booking: 877-845-3283.