Canyon Dave's
Grand Morning Tour 9:30-12:30
Tauck World Discovery listed Canyon Dave Tours as "Best of the best."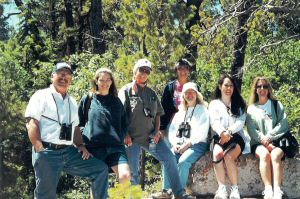 The Grand Morning Tour (3 hours) is $149 for Adults and Teens, $99 per Child 12 and under, and $142 for Seniors and Military. A sales tax of 6.9% will be added. Afternoon tours pick up only at Grand Canyon National Park or Tusayan--you must be at the park or the next-door village of Tusayan. Start time is 9:30 AM at your hotel--please be a bit early. All entry fees are included as well as snacks and beverages on board.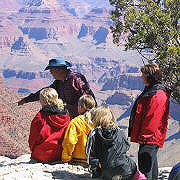 Your guide will whisk you from your hotel or campground to our first viewpoint, Yavapai Point. Here you will view the magnificent Grand Canyon for the first time! You will learn the history of the canyon while using provided binoculars to pick out the varied sights and marvels of this world wonder. You will ride with us in a comfortable air-conditioned van, and everyone will have a window seat.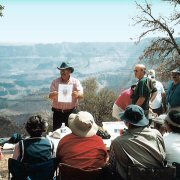 At our next overlook you will have our famous sit-down geology presentation. There will be colorful take-home handouts written and photographed by Canyon Dave and his talented guides. There will be pass-around rocks of Grand Canyon's layers and much excited discussion of these.



The story of the canyon comes to life at your next stop--fossil beds at the canyon's edge--not too close! You will learn the chapters of the ancient life whose remains you will see in the rocks here.
Secret shoppers from Trafalgar Tours wrote that
The Geology Presentation was the best talk they had ever heard on a tour.
You may call us at
877-845-3283

to book your tour, or book online here. All dates are available except Thanksgiving, Christmas, and New Year's Day


Grand Morning Tour
9:30-12:30


Pick up is only at Tusayan or National Park hotels

Copyright ©2023 Canyon Dave Tours, all rights reserved.