Grand Canyon Paleontology Tours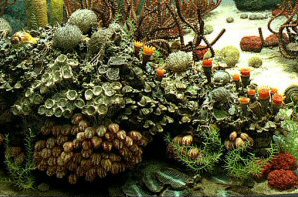 If your students want to learn about ancient life at Grand Canyon, we have your tour. "Canyon Dave" Thayer's latest book, available from Grand Canyon shops or online from Grand Canyon Association, is entitled Introduction to Grand Canyon Fossils.

All the rock layers of the Grand Canyon except the bottom one contain fossils. As all these strata are Paleozoic in age, the life of inland seas, shores, and deserts predominate here. It is a time before the dinosaurs, so no dinosaur bones can be found. The most abundant fossils are small near-shore "shellfish" such as clams, snails, and brachiopods. We will hunt for these in the rocks of the top layer, the Kaibab Formation.

Our tour will include stops at prominent Grand Canyon viewpoints, where your guide will pass around specimens of each type of fossil and the rocks that enclose them: sandstones, shales, and limestones. In the afternoon, we will move down to the Navajo Reservation. Here we will find petrified wood--the fossil remains of ancient trees that huge rivers deposited on long ago flood plains.

While this tour emphasizes fossils, we will also see and learn all about the Grand Canyon's geologic history. It's a day of time travel in the world's best exposure of sedimentary rocks and Paleozoic fossils.
Call our operator, Chris, today to reserve your Paleo Van! Bookings fill early, especially March thru October.