Return to Home Page
|
Daily Tours Page
Grand Canyon One Hour Walk & Talk
Book the Walk & Talk Tour:
$265 for Your Whole Group
Call 877-845-3283 to Check Available Dates and Times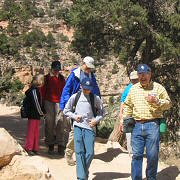 Meet Us at the South Rim
This tour is for groups of any size that want to enhance their understanding of Grand Canyon but don't have time for a longer excursion. You will stroll the paved rim trail with your own expert guide and you can "pick his brain" for a whole hour. You will be introduced to the history, geology, and biology of this world wonder. Your guide will answer any and all questions you have. This walk is wheelchair accessible, and we can mostly walk or mostly talk, your choice. Splendid views await!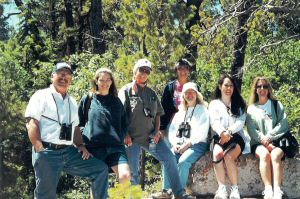 Instead of walking, you may choose sit down for a lively and informative talk about Grand Canyon's geology, history or biology. Either way, this tour is wheelchair accessible. For geology, we will pass to each person a pouch of numbered Grand Canyon rocks to use and learn (no test!). You will have a colorful handout that you will take home. You will learn of the slow creep of geologic time, when the Colorado River dug this Wonder of the World--our nomination for number one of the seven!

For biology, we will pass around and discuss a set of furs and skulls of the wildlife, followed by Grand Canyon plants and seeds. We will discuss the uses by Native Americans, past and present, of the animals and plants of the canyon. All this while sitting at the edge or strolling the many rim-side paths.
The beauty of the Walk & Talk Tour is that your price, $265, is the same no matter how many of you. So it is perfect for a bus load or for just a couple of you. You could be among the best-informed people at the Canyon today!
Book the Walk & Talk Tour
Please call us today to make reservations. There are frequent openings available!