UTAH SERVICEBERRY
Rose Family
Amelanchier utahensis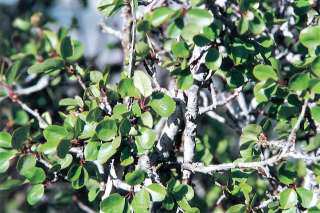 This may be the most common shrub on the South Rim in our area. It is brushy and full, rounded, many stemmed and usually about six feet tall, though it grows to a small tree 18 feet tall. The stems are gray or rosy in color and appear quite straight. Leaves are round and serrated on the distal edge--the side away from the stem. Leaves average about 3/4 inch long. They turn yellow and drop in the fall.
Like many South Rim plants, it is delightful to see the serviceberry leaf out and bloom. This occurs at higher and higher levels of the Canyon walls as spring progresses, starting as early as March in the Hermit Shale. Late summer and fall rains can induce blooming and fruiting even after frost has set in.

The flower clusters are a favorite of mule deer and other browsers. The reddish-purple berries taste bland, but they continue to nourish animals and people. Indians used the berries extensively for food, especially in pemmican, their brand of "trail mix". Navajo people use the fruits as an emetic and for skin wounds. Serviceberry wood is hard and flexible, useful for many implements including bows, arrows, and snowshoes.
Copyright © 2015
, Canyon Dave Tours, Inc. All rights reserved