Return to Home Page
Private Grand Canyon Tours
Canyon Dave's Private Tours are just you and your friends and family. The full day Ultimate Private Tour is $1,800 plus tax and the half day version is $1,000 plus tax. You may include up to 14 people (9-12 are more comfortable). Full day private tours pick up in any hotel or local town including Sedona. We can customize a private tour any way you like.
Grand Canyon Private Tours
The Ultimate Tour for Your Family and Friends Only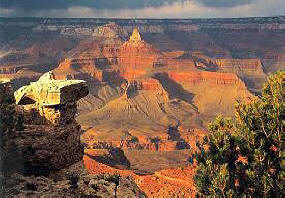 The Private Ultimate Grand Canyon Tour can be just like the Ultimate Tour, but it is restricted to your party only. While you can change anything you like, the tour usually includes our favorite stops along the rim, with an ecotour style introduction to the geology and wildlife.

Next we're off for lunch in a great restaurant (included), followed by secret stops in a nearby section of the park. Then it's along the Grand Canyon South Rim for our favorite viewpoints and, finally, the lengthening shadows.

The price includes restaurant lunch, park entry, snacks and beverages. Pickup is any time you like, at your convenience. Regular start time is 9:30 AM from nearby Tusayan or Grand Canyon Village, 8:00 from Flagstaff, 8:30 Williams, 7:30 Sedona.
If you book your Private Tour online, email us to tell which options or modifications you wish.
Private Tour Booking via PayPal
Tauck World Discovery listed Canyon Dave as "Best of the best."
To reserve your tour, call a Canyon Dave tour specialist today! Our operator is loaded with Grand Canyon information and has the best prices.
Planning and booking: 877-845-3283.