Canyon Dave Tours Are for Families & Seniors, Too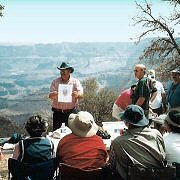 Welcome to South Rim Tours!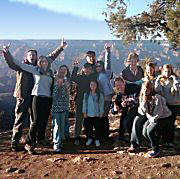 All our Grand Canyon trips are perfect for families and elderly travelers. There are no long walks or hiking, just short paved paths to exquisite viewpoints. We drive on smooth paved roads--no off-road or bumpy discomfort. We have plenty of restrooms. In fact, Dave designed our tours around pit stops! Of course, you will have our signature beverages and snacks on board.
Our patient guides are solicitous of your comfort and safety. There are step stools and a helping hand as you exit and re-enter the van at every viewpoint. If you get tired you can even remain in the van or sit nearby (we'll get you a chair) instead of walking to a viewpoint. Here you might want to read one of our colorful take-home handouts about the Grand Canyon.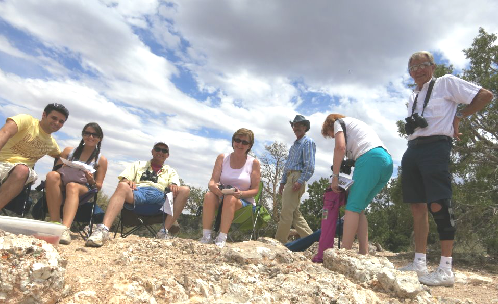 You will enjoy our fascinating sit-down geology presentation, our guests' favorite. We will pass rock specimens around the group to better understand the awesome geology.
If you use a small, compact and light-weight foldable walker, we can usually fit it in the back, though we can't lift you in or out of the van.
Don't worry about accessibility when you plan your Grand Canyon vacation. Even if your mobility is somewhat limited, there is so much to see that we will be walking slowly. Besides, some seniors are mobile just like the younger participants --possibly even more so!