Canyon Dave's Secret Keys...
To a Better Grand Canyon Visit
Secret #1: SUNSETS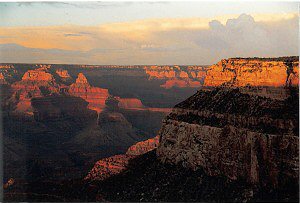 Here is a fairly obvious secret: there is no bad sunset place at the Grand Canyon.
You can get a gorgeous and crowded view at Hopi or Mohave Point on the free shuttle-bus route toward Hermit's Rest. Don't worry--the buses wait until well after sunset for the last returning crowds. If you get there a bit early you might have a chance to be in the front row along the railing. These are truly marvelous places to see the sunset.
For semi-solitude, try walking east on the paved Rim Trail (to the right as you face the canyon). Start from Yavapai, Mather, or Yaki Point.
For complete solitude you can park at the Shoshone Point Road off the East Rim Drive. There are restrooms near the rim. Walk the dirt road 3/4 mile, then a short, possibly scary, path to the rock that juts out over the rim.
The best sunset I have ever seen, in zillions of trips to the Grand Canyon, was a lucky one at Navajo Point. The setting sun peeked out below a ridge of black clouds. Bounding off a Navajo Point cliffside, the sun sent a rainbow-beam of brilliant red light up into the sky.

Here is another thing: the best sunset views are wherever you can see to the east as well as toward the west. Toward the east, away from the sun, is where the light glows on the cliffs and temples. Toward the west you are just looking at the sun itself and missing the last light on the beautiful canyon walls.
And finally, Dave's wife and partner, Dora ("the Explorer") says that her favorite sunsets are 2 hours before sunset! That's when lengthening shadows paint an ever-changing pallete of light and moving shadow on the cliff walls.
Return here often to read more Secret Keys about Grand Canyon Travel Ideas and Grand Canyon Nature and Geology.