Return to Home Page
|
Starting Cities Page
About Grand Canyon Lodging & Food
This page tells you about staying in the Grand Canyon area. There are two separate and distinct hotel areas here. One is the village of Tusayan right outside the park's south entrance, about 10 minutes from the Canyon rim. The other is the in-park hotels, all run by the park concessionaire, Xanterra, Inc.
In-Park Hotels and Restaurants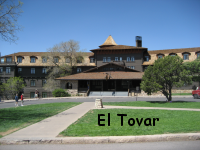 All in-park hotels have the same booking number: 888-297-2757. Insider tip: there are many internet sites that will book your room for you for a 10% fee added on, so just book online or call direct at above number to save this surcharge.

The aging queen of all Grand Canyon hotels is the lovely, historic El Tovar. Other choices right on the canyon rim are the somewhat dorm-like Thunderbird or Kachina, and the even more rustic (but 'kinda fun') Bright Angel Lodge and cabins. The rustic Maswik Lodge is a short walk to the rim, and slightly nicer Yavapai Lodge is a short drive or shuttle ride.

Our favorite restaurants in the park are the El Tovar Dining Room and the Arizona Room (ask for a table by the windows). Maswik and Yavapai Lodges have good cafeterias, great for starving hikers. The restaurant in the Bright Angel Lodge is good, too, and has a couple tables with a view. The Village Market deli, near Yavapai Lodge, has real good sandwiches.
Tusayan Hotels and Restaurants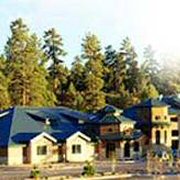 The Tusayan hotels: Best Western Squire Inn (800-622-6966), the Canyon Plaza Hotel (877-424-6423), the Holiday Inn Express (888-473-2269), the Grand Hotel (888-634-7263), and the Red Feather Lodge (800-538-2345). These are more modern and less cabin-like than the Xanterra hotels in the park, having swimming pools, air conditioning, and other amenities. Tusayan is a ten minute drive from the Canyon rim.

The Canyon Star in the Grand Hotel and the Coronado Room in the Squire Inn, both steak houses, are probably the best restaurants. We also like the Plaza Bonita for excellent Mexican food, or the We Cook Pizza and Pasta for great pizza and Italian food in a pizza parlor atmosphere on benches.
To reserve your tour, call our Canyon Dave tour specialist today! He is loaded with Grand Canyon information and has the best bookings and prices. Bookings fill early, especially for March thru October.