About Flagstaff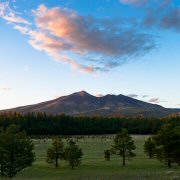 While Flagstaff is farther away from Grand Canyon than Williams, it is a great place to stay. As a university town with about 70,000 people, this city has the widest variety of lodging, restaurants, and activities. You can visit the Arizona Snowbowl, the excellent Museum of Northern Arizona, or Lowell Observatory. The San Francisco Peaks have many Forest Service trails and camping areas.
Flagstaff is home to Northern Arizona University. Several National Monuments are nearby, featuring volcanoes and prehistoric ruins. Flagstaff is about 1.5 hours from Grand Canyon's South Rim viewpoints.
Canyon Dave's
Ultimate Grand Canyon Tour from Flagstaff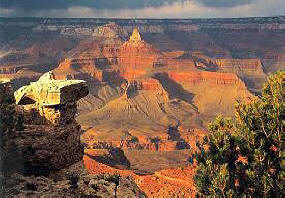 Canyon Dave's tours from Flagstaff include all the major Grand Canyon viewpoints. The drive to the canyon from "Flag" (as the locals call it) is quite scenic. You will have views of many dormant volcanoes, forests of Ponderosa Pine, and possible sightings of pronghorn antelope. The antelope is Arizona's fastest and most beautiful hoofed animal (unless you are fond of cows).

The Flagstaff to Grand Canyon tour takes in our very favorite canyon views, all stunning and begging for a photo. Canyon Dave Tours specializes in orchestrated but not memorized geology and wildlife discussions. The discussions of Geologic Time are especially enriching. The tour also features lunch (included in price).
You may call us at 877-845-3283 or book online here:
Hotels and Restaurants in Flagstaff
There are many fine hotels in Flagstaff. We especially recommend the following:
Little America
Sonesta ES Suites
Fairfield Inn & Suites
Drury Inn and Suites
Residence Inn
Best Western Pony Soldier
Highland Country Inn
Ramada West
Comfort Inn
Marriott Springhill Suites
Hilton Garden Inn
Hampton Inn and Suites
Embassy Suites
La Quinta Inn & Suites
Flagstaff Restaurants
$$$ Black Bart's Steakhouse—Relax after your tour as your talented NAU music major wait-staff flits on stage to sing for you!
$$ Himalayan Grill or Delhi Palace—Classic, delicious, India dishes.
$ Wildflower Bread Company--great sandwiches and salads.
$$ Pato Thai Cuisine or Dara Thai—Highly rated Thai food.
$$ Tappan Fuji—They have sushi and those fun tables where the chef juggles the steak, chicken, shrimp, and vegies in front of you.
$ Many fast food, Subway, and other inexpensive restaurants.