Return to Home Page
|
Starting Cities Page
About Sedona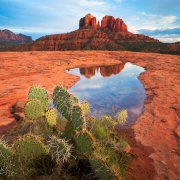 Of the four cities we review, Sedona is farthest from Grand Canyon, a little over two hours. However, it is truly among the most beautiful cities in America. Amenities abound--great restaurants, hotels, and resorts. Epic scenery and hiking. World class shopping. The road from Sedona to Grand Canyon is also gorgeous.
Although hotels are numerous, Sedona is an extremely popular town, so book your lodging as soon as you can.
Canyon Dave's
Ultimate Grand Canyon Tour from Sedona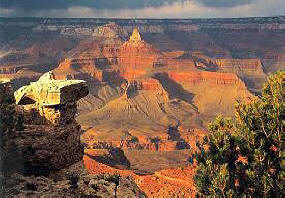 Your nicest Grand Canyon tour from Sedona may actually begin in Flagstaff! Other Grand Canyon tours, ones that start in Sedona, last a grueling 12-14 hours. Instead, you can drive your own car one hour to Flagstaff and join our Ultimate Tour there.

The drive from Sedona to Flagstaff is very scenic. It offers a hidden advantage: you will cut about 2 hours from your tour. When we return you to your car in Flagstaff at about 6:00 PM, you might choose to have your dinner there, in one of Flagstaff's excellent restaurants (see below). Then you can have a leisurely drive back to Sedona on your own schedule, in your own car, and directly to your hotel instead of waiting for drop-offs.
Flagstaff Restaurants for Sedona Travelers to Grand Canyon
$$$ Black Bart's Steakhouse—Relax after your tour as your talented NAU music major wait staff flits on stage to sing for you!
$$ Himalayan Grill—Classic delicious India dishes--especially their lunch buffet.
$$ Pato Thai Cuisine or Dara Thai—Highly rated Thai food.
$$ Tappan Fuji—They have sushi and those fun tables where the chef juggles the steak, chicken, shrimp, and vegies in front of you.
$ Many fast food, Subway, and other inexpensive restaurants nearby.
Please call our operator today to reserve your spot in our van! Bookings fill early, especially March thru October.
Planning and booking: 877-845-3283.