About Williams, Arizona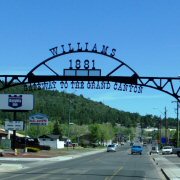 Williams is a good choice, maybe the best, when you are planning a Grand Canyon trip. It is the closest town, only 45 minutes from the Canyon. There are numerous activities for vacationers in and around Williams. It is located about equidistant from Phoenix and Las Vegas, roughly 3.5 hours drive.

Williams is a town of only about 3,000 people. It is mountainous and pine-forested at 7,000 feet altitude, the same as Grand Canyon. The air is clean and clear, and it snows in winter—a surprise to Arizona visitors. Many local shops and activities revolve around the Route 66 mystique. Williams was the last Route 66 town bypassed by Interstate 40.

Williams is a great starting place to visit the surrounding forest and several nearby lakes. We recommend Kaibab, Dog Town, or Whitehorse Lakes. Also, Williams is home to Bearizona, a wonderful new wildlife park. It is a pleasant surprise and a must-see for kids. It is a drive-through park exhibiting animals in natural settings. There is also a walking area with traditional enclosures.
Hotels and Restaurants
We recommend staying at one of the charming bed and breakfasts in Williams. The Sheridan House offers adults-only a cozy and elegant English-style hospitality. They have exceptional food and ambience-wait 'til you try their amazing breakfast! Another nice B&B, the Canyon Country Inn, is right on Route 66 and in the center of the local activities.

There are many inexpensive motels in Williams, so it is a life saver when Grand Canyon hotels are booked up. Among the motels, we enjoy the Lodge on Route 66, the Days Inn, the Comfort Inn, and the Best Western of Williams. There is also a new Holiday Inn Express, a new La Quinta, and many more.

Eating places in Williams are few but eclectic, with fine dinners at the Red Raven restaurant as well as the Dara Thai. There are also Route 66-themed cafes as well as Rod's and Best Western's steak houses. Pine Country is locally famous for its generous and delicious pies.