Secret #3: Traveling to Grand Canyon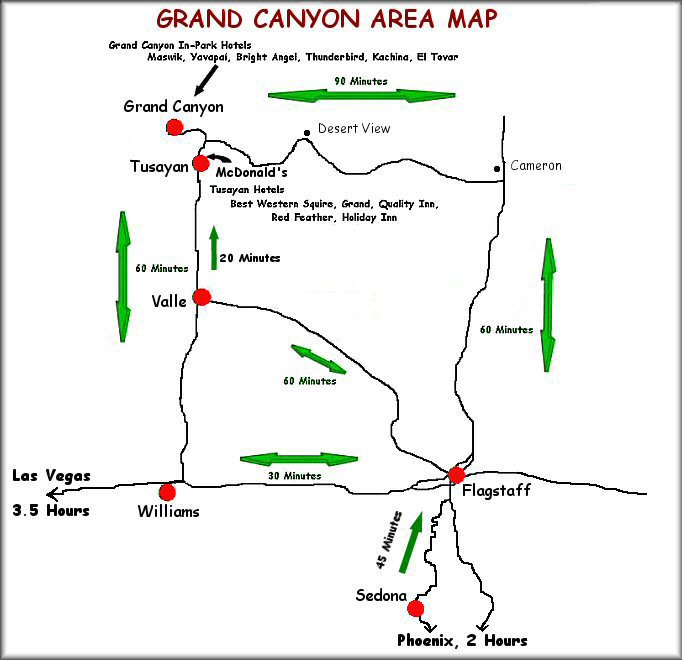 Driving to the Grand Canyon
by Canyon Dave
From Williams
An easy drive north via Highway 64 to the Grand Canyon South Entrance.

Closer! 54 Miles (87 Kilometers). 45 Minutes.
This is a two-lane road, so be careful and patient. Traffic can be busy, even maddening. Along the way there are two short passing lanes that become racetracks, with cars going 95 miles per hour trying to get ahead of you. Then, when you reach the South Entrance, I have seen a wait-in-line of two hours to get in the National Park, especially between 10:00 AM and 3:00 PM in busy season. Avoid this by starting early if possible, or visiting in the off-season from November to February. In the early morning there may be no entry line at all!
From Flagstaff
There are three ways to drive from Flagstaff, Arizona to the Grand Canyon.
1. More Scenic: 80 Miles (130 Kilometers). 90 Minutes.
Drive northwest on Milton Road through Flagstaff. Then take Highway 180-west to Valle (Grand Canyon Junction), AZ. From Valle, take Highway 64 north to the South Rim.
2. More Facilities: 80 Miles (130 Kilometers). 90 Minutes.
Take I-40 west to Williams, AZ. From Williams, take Highway 64 north to the South Rim.
3. Visit the Navajos: 110 Miles (177 Kilometers). 2 Hours, 10 Minutes.
Take Highway 89 north to Cameron, AZ. Definitely eat a Navajo Taco at Cameron Trading Post. Backtrack a couple miles to the Highway 64 roundabout and turn west to Grand Canyon's East Entrance at Desert View. Continue 45 minutes along the South Rim to Grand Canyon Village, stopping at the many viewpoints. This way is sort of "backwards."
From Las Vegas or Phoenix
It probably isn't worth your time to visit the Grand Canyon in one day (one round trip) from Las Vegas or Phoenix. This recommendation also applies to the many one-day motorcoach tours on offer. It is a 4.5-hour drive one way from Las Vegas to the Grand Canyon National Park entrance. If you will stop for lunch (as the motorcoaches do) or gas, you will add even more time. Next there is delay at the entrance, sometimes a lot of delay, and a 15 minute drive from entrance to canyonside. Whew, this is a 12-14 hour trip at least!

From Phoenix it is the same story, though the drive is "only" 3.5 hours each way, plus lunch and gas. I guess you could make this into a bucket list check mark, but that's about all. You will like it at the Grand Canyon!! You will want at least a full day, preferably two or three, so that you can see a sunset and enjoy the many views and activities.
Visiting the North Rim
A 5-hour drive starting from either the Grand Canyon South Rim or from Las Vegas will get you to the primeval forests and meadows of the North Rim. It is much less crowded here. The views are inspiring but not quite as spectacular as those at the more popular South Rim. I think you should see the North Rim only after you have visited the South Rim.

Unless you are a Grand Canyon aficionado like me, and you are fine with a couple days at the end of a long, remote road that doesn't go anywhere, stick with Grand Canyon National Park's South Entrance via Highway 64 north from Williams, Arizona.
Visiting the "West Rim"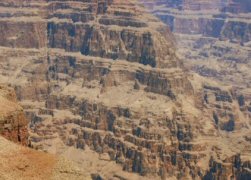 You can reasonably do the so-called west rim (not part of the National Park) in a day from Las Vegas. You will have fun, but you (by far) won't have seen the best of Grand Canyon. The Hualapai Tribe will charge you one fee to traverse the reservation road toward the skywalk and then an additional admission price to walk on the glass bridge over a deep (see photo) but relatively drab tributary canyon (absolutely no cameras allowed). Instead, the best choice is Grand Canyon National Park at the South Rim. Let that be your goal, on a separate Grand Canyon trip.

What are the closest towns to the Grand Canyon? They offer many amenities and much less driving for your vacation.