Secret #2: FUELING YOUR DRIVE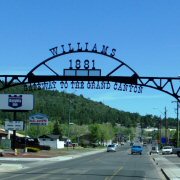 Fueling or Charging
Your Drive to
Grand Canyon
The road to Grand Canyon South Entrance is Highway 64, exit 165 north from Interstste 40, at Williams, Arizona. You don't need to enter Williams itself: two gas stations are on highway 64 a few miles north of Williams.

Today, August 9, 2023 (use for comparison), unleaded gasoline prices rise up from $3.59 near or in Williams, to $4.59 in Valle (Grand Canyon Junction), to $5.49 in Tusayan near the Grand Canyon South Entrance.

A tank of gas will probably be sufficient for your Grand Canyon visit. There is a gas station inside the National Park at Desert View, 30 miles east of Grand Canyon Village.

Electric vehicle (EV) chargers are located in Williams and Valle, and free to use in the National Park at Yavapai Lodge East, currently three chargers.