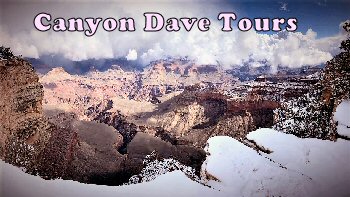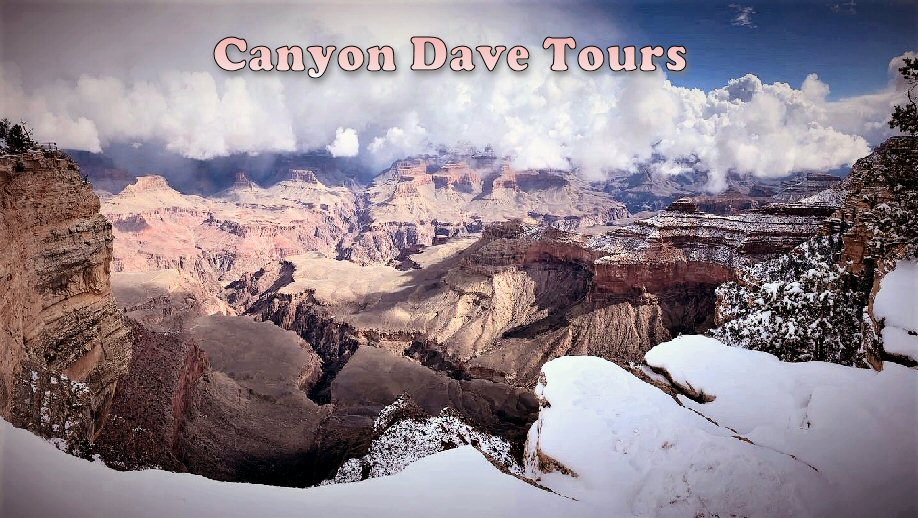 Welcome,
Wonderful Person

, to
Canyon Dave's
TOURS AT THE
GRAND CANYON
See more...Understand more...Enjoy more
"Canyon Dave is a Grand Canyon legend...taking people on the most informative tours of the Grand Canyon available." -Quoted from Insiders' Guide to Grand Canyon-
Our Guides at "Work"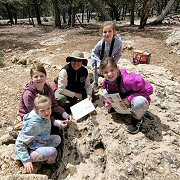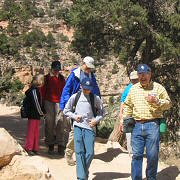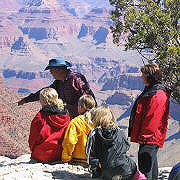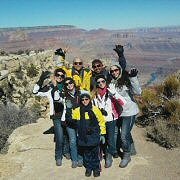 But Canyon Dave wasn't satisfied...
"Wait a minute," he said. "This is a World Wonder! Tours at the Grand Canyon require world-class certified interpretive guides. I must train them to clearly explain, for all ages, the Grand Canyon's geology, nature, and history!

Our tours must allow our participants to understand how a river can cut a great canyon into a flat landscape--into this Kaibab Plateau. This is the living story of Grand Canyon geology.

I will select iconic viewpoints where we will discuss the Canyon's rich human history: how and when was it discovered, and by whom. This tour must be enriching and fun, with lunch included and plenty of comfort stops!"

Sitting near the edge of the abyss, he thought and thought about how to design such a tour. "How will I plan our walks and talks? How can I help them understand the ancient stories of the rock layers? How will they glimpse the march of time through the long ages?"
His answer: the
Ultimate Tour
Only a
Canyon Dave Tour
Has

Any

of These:
1. Free colorful Nature and Geology informational flyers along with free snacks and beverages on board.
2. A fascinating Sit-at-the-Rim Geology Talk with pass-around rocks of Grand Canyon.
3. A "Portable Museum" of Show-and-Tell Native American, botany, and geological items plus a Grand Canyon relief map so you will know where you are!
4. Passionate guides taught by "Canyon Dave," an Arizona Geology Professor and Museum Curator.
5. Everyone gets a window seat in an air-conditioned van with a flyer for Things to Do after your tour.
6. The only Grand Canyon tour 100% recommended on TripAdvisor that picks you up and drops you off at the front door of any lodging, in any city, or any campground in the Grand Canyon area or in the National Park itself.
With a Heart Award for Excellence!
Unlike many other tours, Canyon Dave Tours has very small groups: 9 guests maximum. Of course, all your park fees are paid, we are fully insured, and we are licensed by the Grand Canyon National Park.
On our popular Full Day Grand Canyon Tours of the South Rim, your lunch is included. No matter which tour you choose, your adventure starts and ends right at the front door of your lodging in Flagstaff, Williams, Tusayan, within the park, and at any nearby campground or vacation rental.
If any or all of this excites you, you simply must join us!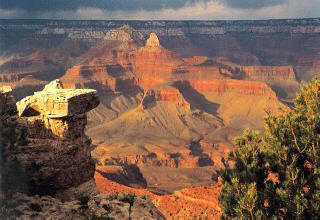 Ultimate Tour price is $229 Adults and Teens
$214 Senior and Active Military
$129 Child 12 and under.
Call 877-845-3283 or Book Your Ultimate Tour Here:





Total with tax: $0
The price includes lunch, snacks and beverages, colorful Info-sheets, Grand Canyon map, and all park fees.
We are always available
any day

except
Thanksgiving, Christmas, and New Years.
We also offer two daily

Three-Hour Tours

from Tusayan and Grand Canyon hotels or campgrounds.
Families and Seniors as well as Singles and Couples love our special attention to safety and our numerous restroom stops.
For 23 years CANYON DAVE TOURS has been the most trusted tour company at Grand Canyon.
We Are Proud of Our Reviews on Trip Advisor, Get Your Guide, Google, and Yelp!
Pat McD. said: "First timers on bucket list trip! Keaton was a great guide! This was a perfect one day trip. He knew just how to keep us out of traffic and people jams. We saw all of the South Rim overlooks and heard his concise historical, archeological, and geological comments and learned a great deal! He was patient with us older and slower visitors and was very accommodating! Highly recommend this tour!"
AJ H. said: "Fantastic Tour of the Grand Canyon. Greatly recommend! This tour was absolutely amazing and 100% worth every penny! Leo and Emmi were wonderful guides. Even our lunch was fabulous. Leo is an incredible vault of knowledge. They were both very proud to work for Canyon Dave. I would certainly recommend this tour to anyone visiting the Canyon for the first time."
Trip Advisor has more of our awesome testimonials.
We received their
Certificates of Excellence


for 2022, 2021, 2020, 2019, 2018, 2017, 2016, 2015, 2014, and 2013, with a special


Trip Advisor HEART

for our many 5-star reviews!
Secret shoppers from Trafalgar Tours wrote that
The Geology Presentation was the best talk
they had ever heard on a tour.
What is Grand Canyon's Average

Weather

for Your Date?
Check out our

Travel Blog

for Grand Canyon Secrets!